Monday 5th September 2011
It's Day 4 of our 17 Day Homemade Cake Festival (Friday 2nd – Sunday 18th September), part of our involvement in the Norfolk Food Festival 2011.  Aside from an extended (and genuine) homemade cake selection, you can also take advantage of a slice of our Homemade Cake of the Day for £1.00 and our Homemade Daily Special for £5.00.
Once again Sara's Tearooms will be open today from 10am until 5pm. Join us in the Pleasure Beach Gardens on South Beach Parade, take a seat, have something nice to eat or drink and enjoy the beautiful seaside views in our Flower Garden or on the Beach Terrace.
The Homemade Daily Special on offer for today at Sara's Tearooms is: –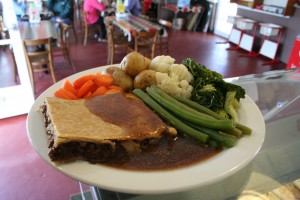 HOMEMADE MINCED BEEF & ONION PIE
Beef Mince and Onion contained in a Pastry Pie.
Served with a choice of either: –
New Potatoes, a selection of Fresh Vegetables and Gravy
or
Chips, Peas and Gravy
£5.25
£5.00 for an Adults Portion
£3.00 for an Childs Portion
At Sara's Tearooms we are proud to serve up genuine homemade food made with the freshest ingredients to ensure that we serve a good quality wholesome meal.  Our homemade specials are changed on a daily basis and are always subject to availability as we regularly sell out.
Looking for somewhere to park for free near to Sara's Tearooms…use our FREE PARKING MAP guide to help you find a space.