Sunday 25th March 2012
In order to serve all the special fund raisers doing the Great Yarmouth Sport Relief Golden Mile today, Sara's Tearooms will be open from 8:30am until 4:30pm.  Join us today and watch all the runners completing their 1, 3 or 6 mile run from the comfort of our outdoor dining areas!
Todays homemade daily special is…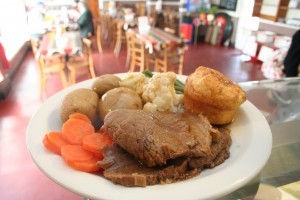 ROAST BEEF
Served with Sara's Homemade Yorkshire Pudding, New Potatoes, a selection of Fresh Vegetables and a Rich Gravy.
£5.75 for an Adults Portion
£3.30 for an Childs Portion
At Sara's Tearooms we are proud to serve up genuine homemade food made with the freshest ingredients to ensure that we serve a good quality wholesome meal.  Our homemade specials are changed on a daily basis and are always subject to availability as we regularly sell out.